Immerse in a world of gladiators fights, secret pacts and sexual acts which send you back in the age of the Roman Empire. Slavery, corruption and chaos ruled the Earth right from the start, and "Sex Gladiators" is a raw point of view telling us how the gladiators felt during those hard times. Bloodlust attacks, effective earthquakes, touch of death are just the few of the techniques which the weapons are able to execute. Along with executing enemies, of course.
Surrounded with cement pillars, the Bordello building provides information about the game characters you run across to. Additionally, the Bordello provides reward for each character you unlock, so make sure to claim those rewards and advance your progress in the game. Also, the bordello is linked with the Hentai Cinema, which can be accessed with the sex symbol.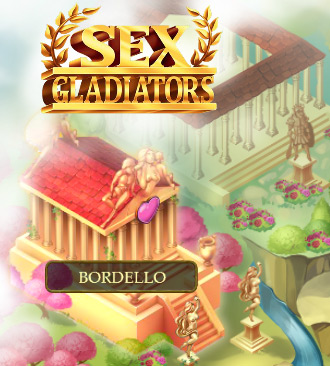 Although the story characters appear several times throughout the game, they subtly provide valuable clues and details of their own existence and their place in the sun of this barbaric world. Make sure to pay attention to their dialogues, and once unlocked, read the character biography in order to connect the full story. Below find the story characters along the areas whey they appear in.
Tutorial (area 0)

Zoey

Protagonist

Biggus Dickus

Crixus

Ergon

The Beginning (area 1)

Oxana

Ramona

Blackus

Black Bandit

Brutus Violatus

The Colosseum (area 2)

Adela Quickarm

maid Neena

twin Janala

twin Jaal

Hollow Glamour (area 3)

Khebhut

Dark Forest (area 4)

Luna

Cassius

Wolf Boss

Prefect's Villa (area 5)

Virgin Trio

queen Ennia

oracle Nerii

prefect Macro
Hidden in the top-left corner of Bordello sky, the access to the Hentai Cinema is available through clicking the following sex symbol.